In the US stores you can buy everything desired, and even a little more. The constantly increasing variety of goods at first makes the problem of choice rather complicated. You must determine what you need in the first place, and plan your purchases accordingly. To be economical in purchases, you need to keep track of ads in newspapers, visit the discount stores and sales in the common types of US stores.
The most comprehensive source of information is newspapers, including the Internet editions. As a rule, information on the sale of goods, services and prices are put in three sections of newspapers. Announcements of sales are placed in the foreground. There are also newspaper enclosures, consisting entirely of ads. On the last pages of the newspapers, the "classified ads" section is printed, in which, under the headings "Houses for sale", "Sale of bicycles", "Sale of livestock", "Sale of electrical goods", etc., people offer their services to those, who want to sell, exchange or lease something.
America attracts shopaholics from all over the world, especially attractive shop windows are in cities like New York, Las Vegas, Los Angeles, Miami, Boston and Chicago. While travelling, you can use Hertz Hillsboro car rental for successful shopping holidays.
Before starting shopping in the USA, it is necessary to become familiar with the types of shops, because each of them has its own characteristics.
Shop
Shops usually operate on their own schedule, but most of them are waiting for buyers from Monday to Friday from 09:30 to 17:30. Shop name usually ends with the word 'Shop'. As a rule, they are presented in a single version.
Store
This is a large shop or a mini market.
The Neighborhood Markets
This is a small local 'next-door' store. As a rule, it is at the same time a grocery store, a pharmacy, a household chemicals store and the so-called "general merchandise" selling various useful trifles. People visit this place on the way home to buy a couple of goods. The range is small.
Department Store
It is usually larger than a store and it sells different goods. The department store is a multi-storey store, with a universal assortment that includes mainly clothes, shoes, cosmetics and various accessories. By its design and organization, the department store is a single space where one operator carries out trade. Commodity groups smoothly flow into one another or distributed on floors.
The 'Walgreen', 'Target', 'Walmart', 'K-Mart' are well-known networks of department stores. Moreover, they provide an opportunity to save, because commodity prices are quite reasonable. Most department stores are operating from Monday to Saturday.
Cash & Carry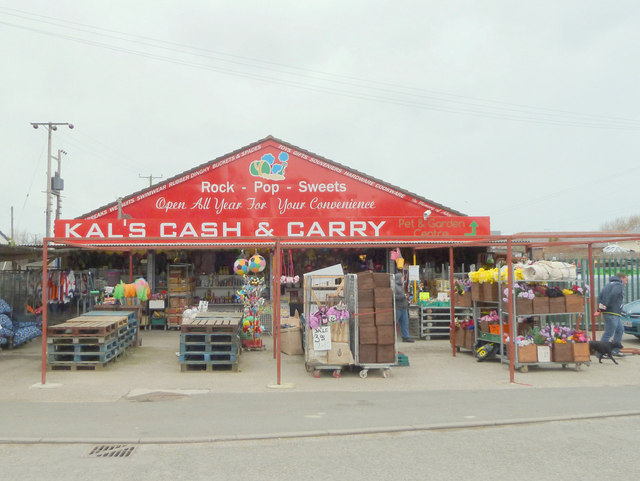 These are stores, where goods are purchased in bulk for cash at a low price. In other words – these are warehouse stores. Not only small companies, but also private individuals often make purchases in cash & carry stores. At the same time, the level of markups is the same for both the private buyer and the owners of their own business. The buyer (wholesaler or private person) can purchase goods after showing a special pass, which allows using a special (low) price.
Mall
Here you will find the richest selection of goods, as it is a giant shopping center, sometimes occupying a whole block, where there are many different shops, restaurants, cafes, cinemas under one roof. Often families go to these gigantic shopping centers and spend the whole day there shopping and entertaining themselves. There are also small strip malls (mini malls), which are located on the outskirts of the city.
The largest shopping center in America is the 'Mall of America'. It is located in the city of Bloomington, Minnesota, and is a real paradise for shopping.
Although it is not necessary to buy something there. 'Mall of America' is not just a collection of shops, it is the largest shopping area in America, a variety of cafes and restaurants, 14 cinema halls, an aquarium with sharks, octopuses and other sea creatures, and even its own amusement park right in the middle of a 4-level building!
Outlet mall
It is a large store of discounted merchandise, which were not sold "during the season" – high-quality, but slightly stale goods of other stores. For example, some brand boutique received a new collection of clothes. They sell it, and then make a sale, but they do not have time to sell everything. As a result, a new collection is imported, and the old one needs to be put somewhere. It is sent to various outlets, where it is sold at lower prices. Outlets look like small shops and they offer products from over 200 different brands.
Most types of stores work from Monday to Saturday from 9-9.30 to 17.30 or from 10 to 18 hours. However, in many cities, one evening a week (usually Thursday or Friday), shops are open until 21.00. Often, shops work on Sundays for a few hours in the afternoon. Their opening hours can be found at the newspapers.